Kaushik Basu 65th Birthday Conference
December 17, 2017
Venue: Swami Vivekananda Hall, Delhi School of Economics, University of Delhi, Delhi 110007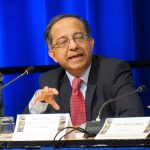 Professor Kaushik Basu, Professor of Economics and C. Marks Professor of International Studies at Cornell University, President of the International Economic Association (2017-2020), former Chief Economist and Senior Vice-President at the World Bank, and former Chief Economic Advisor to the Government of India, turned 65 this January(2017).We are celebrating this occasion to honour his intellectual contributions by holding this one-day conference at the Delhi School of Economics where he taught for 16 years (1978-1994). Ajit Mishra (University of Bath) and Tridip Ray (Indian Statistical Institute, Delhi) have edited a Festschrift with contributions from his former PhD students and other research collaborators. OUP(Oxford) has just published the festschrift. We will present Prof. Basu the festschrift in this conference.
08:45 – 09:15
Registration
09:15 – 09:30
Inaugural and Welcome:
Pami Dua, Director, Delhi School of Economics
Rohini Somanathan, Executive Director, Centre for Development Economics
09:30 – 10:15
HOW INEQUALITY WEAKENS OUR ECONOMY AND DIVIDES OUR SOCIETY:
INSIGHTS FROM RECENT DEVELOPMENTS IN BEHAVIORAL DEVELOPMENT ECONOMICS

Joseph E. Stiglitz, Columbia University

Chair: Aditya Bhattacharjea, Delhi School of Economics

10:15 – 11:00
FIGHTING CORRUPTION BY ALTERING EQUILIBRIUM IN AN ASSURANCE GAME

Avinash Dixit, Princeton University

Chair: Arunava Sen, ISI, Delhi

11:00 – 11:30
Tea/Coffee Break
11:30 – 12:15
Title: Capital and Inequality in the Long Run: Automation without Technical Progress

Debraj Ray, New York University

Chair: Homa S. Zharghamee, Barnard College, Columbia University

12:15 – 13:00
CURB-SETS AND BEYOND:
GAME THEORY AS A TOOL TO UNDERSTAND SOCIAL CONVENTIONS

Jorgen Weibull, Stockholm School of Economics 

Chair: Sudhir A. Shah, Delhi School of Economics

13:00 – 14:30
Lunch Break
14:30 – 16:00
PANEL DISCUSSION ON 'POLICY ADVICE: THE ROLE OF POLITICS AND ECONOMICS'

Chair and Moderator: Kaushik Basu

Panelists:             Celestin Monga, African Development Bank
                              Narayana Murthy, Infosys
                              Jaime Saavedra, World Bank

16:00 – 16:30
Tea/Coffee Break
16:30 – 18:00
Felicitation and Festschrift Presentation

"Markets, Governance, and Institutions in the Process of Economic Development" edited by Ajit Mishra and Tridip Ray, Oxford University Press, Oxford.

Chief Guest: Manmohan Singh, Former Prime Minister of India

Guest of Honour: Joseph E. Stiglitz, Columbia University

Ashwini Deshpande, Delhi School of Economics
Garance Genicot, Georgetown University
Ranjan Ray, Monash University
S. Subramanian, Madras Institute of Development Studies

 18:00 – 18:10
Vote of Thanks

Ashwini Deshpande, Centre for Development Economics
Registration for this event is closed. Please contact Surjeet Singh (surjeet@econdse.org) for further queries.